Chatting with Grace Chatto of Clean Bandit
Electronic group Clean Bandit has a lot in store for 2015. Since their release of "Rather Be", which recently won a grammy, the band has gained a lot of momentum. The British group released their first full length album, New Eyes, in 2014. We had a chance to to talk to Clean Bandit's cellist and vocalist, Grace Chatto, about the band's style, grammy win, and aspirations for the upcoming year.
How long have you known each other?
Grace Chatto: We've been recording for 8 years. I
met Seth 10 years ago, then a year after that we started performing, Zack and Luke are brothers, we've known each other since childhood. Last year we recorded our first album.
How did you form the group?
GC: We were performing in gigs and we wanted to get better gigs. We started recording
classical pieces and zack added electronic house elements and did
experimental
What is the meaning behind your name Clean Bandit?
GC: Clean as in clear, pure, an absolute bandit. It was a Russian lady who used the phrase to describe their sister, a total rascal. We thought it was really comical.
What do you think is so attractive about mixing electronic sounds and
organic sounds like cello and piano?
GC: I don't know why, other people do it. Its something about the way he [Zack] does it; it just works really well. We have been experimenting with many styles across the album. He uses loads of styles that he quite naturally mixes together to make it work.
Who is your biggest classical inspiration and electronic/remix inspiration?
GC: Mozart, we've used parts of his movements in songs in the album, his humor and stuff has had an influence.
What is the creative process when you are writing songs?
GC: It's different for every song. We start classically and then decide what parts to describe and then we add bass. The vocal/ words come last. With "Rather Be" we finished instrumental and then Jimmy Napier worked on and finished the lyrics. We didn't plan on it being the love song that we had in the end. We were surprised with the happy and sad emotions in that song.
Tell me about Jess Glynne and why you work so closely with her.
GC: We wanted a big full voice. She sent a recording and at that time she only had one other thing recorded. It was quite complicated but it turned out really perfectly. We chose to work again with her for "Real Love". Jess has developed as much as a singer and amazing to be that medium for her. We w
ent on tour with her in the UK and it went really well.
What is is like hearing Rather Be being played basically everywhere?
GC: Its amazing, I heard it this morning. I was having breakfast in Scotland in a kind of run down part. I heard it in this café, on my own. It was quit grim and I heard it on the radio and it was just this nice a pleasant thing.
You've won a Grammy what does this success feel like and how has it changed your lives?
GC: When we found out we were nominated, it was such amazing moment. It was such an honor to be alongside disclosure which we've supported on their tours. We've really kind of grown up alongside them and they've
been very influential for us. When we won it was a very emotion amazing feeling. I don't know how its changed our lives really, lots of people telling us congratulations. In the US helped get our name out to more people
What is the best thing about fame and the worst thing about fame?
GC:
Its been really nice, really sweet, such a pleasure to meet people. The nature of our band we don't have lead singers so its not over the top, its not like we can't go out on the street and not get recognized. Its like once every few days, its really nice to connect with people over our music.
You are touring now, describe what the tour life is like?
GC: Its quiet intense doing the concert everyday. We sleep on our tour bus, and arrive in a new city every morning. Its not really glamorous its abit like camping. The day kind of depends on where you are. The gigs are different every night and the atmosphere is different in different cities. In the states, its very interesting, like some really warm ones and some really wild. In America the drives are very long. Like, we drove from Minneapolis to Seattle and it took like 36 hours.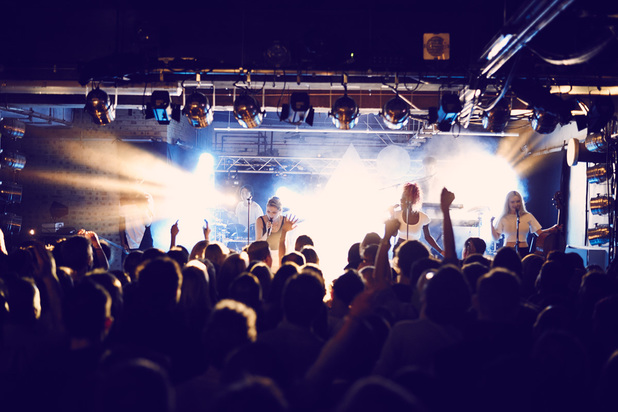 Photo: DigitalSpy
What can we expect from Clean Bandit in 2015?
GC: New song real love at the moment, new music video for new song stronger set in London on a London bus. We are touring in the states next week for about month and a half and coachella and gov ball and ultra, quite a few festivals. We'll be back in June, in the states. We are kind of working new music, in a month while we are touring. Hopefully a new album in a year. We are currently touring our album New Eyes.