My night out, with the Blackbird Cafe'.
Well, I went out tonight, to a great cafe' full of the best coffee's, snacks, and now, art. Right when I walked in they were introducing Eleanor Schreiner, an IU Graduate. Her artwork was genius, very bright, and fun. I also finally met the owners of the Blackbird Cafe', who were more than welcoming and very friendly. They served trays full of cookies, cupcakes, and pastries. I took a few pictures, and, it was a good time, so, if your in the neighboorhood (Linconlway Valparaiso.) Make sure to stop by, you won't regret it. Okay, now to the pictures.
Eleanor, standing in front of my favorite of her undergraduate thesis collection, which took her around nine months.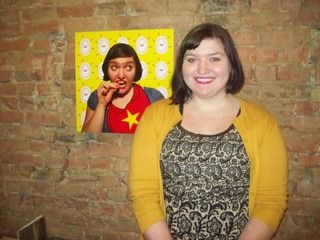 Another of my favorites.
The owners of the Blackbird Cafe', Full of hospitality. Very friendly. Great buisness owners.
All in all, it was a great night. Also, make sure to stop in any day between now and March 7th, to see Eleanor's work. It's wonderful.